PropCade is the first Propeller based computer designed for 100Mhz operation from the ground up!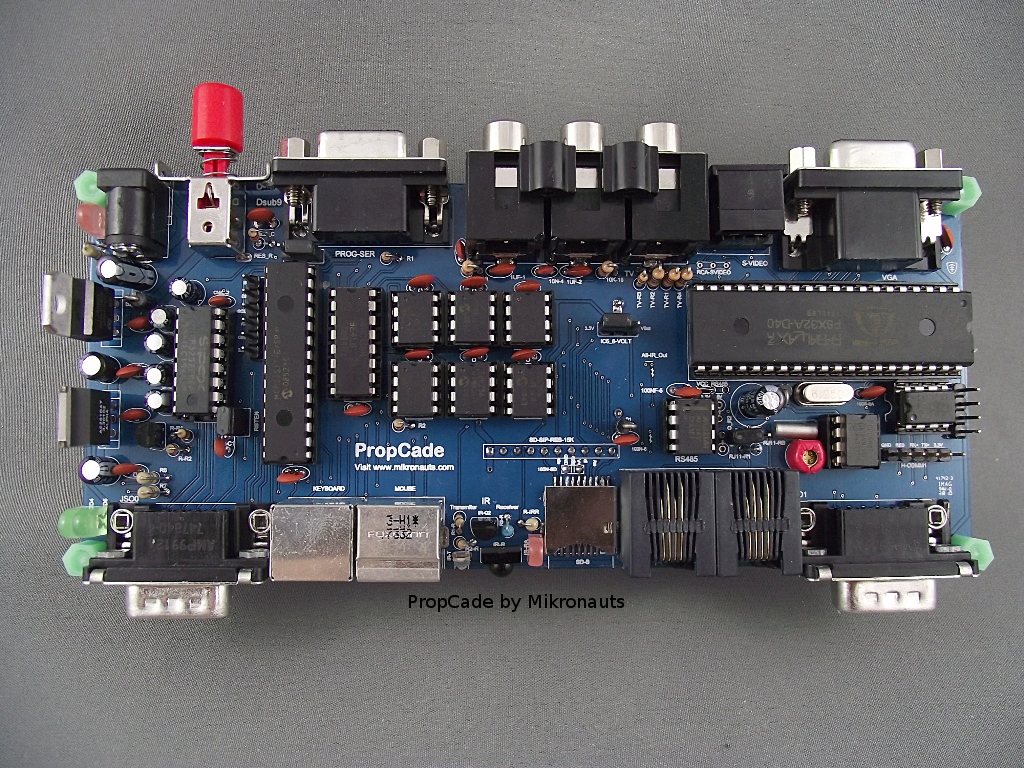 Feature List:
- 100MHz operation, tested for all functions
- 6.800"x2.800′ double sided, solder masked, silk-screened PCB
- Propeller P8X32 (running at 100Mhz)
- 64KB EEPROM
- PCF8563 Real Time Clock
- battery backup of RTC
- optional battery backup of last two DIP SPI ram's
- two RJ45 jacks for easy RS485 daisy-chained networking (MAX3485)
- IR receiver (38Khz)
- IR transmitter
- two Sega/Atari DB9M joystick ports using a MCP23S17 running at 5VDC
- built-in 'SerPlug' MAX3232 serial port with DB9F runs at 1Mbps with optional FTDI USB cable
- uSD socket (push/pull)
- six sockets for SPI RAM/FRAM/FLASH (SOIC8/TDFN pattern under DIP8 socket)
- VGA output (demo board compatible)
- Video output (demo board compatible)
- S-Video output
- Stereo audio out via RCA jacks
- PS/2 keyboard jack (demo board compatible)
- PS/2 mouse jack (demo board compatible)
- DC 2.1mm power jack for 7.5V-9V adapter (not supplied)
- push on / push off power switch
- power ON LED
- 2 user LED's
- PropPlug/SerPlug header (remove SP3232 to use the header)
- extremely Demo board compatible
- VGA/Keyboard/Mouse pins 100% Protoboard compatible
Future Expansion:
- up to seven more MCP23S17's for up to 112 more digital I/O's
- I2C expansion header for anything you care to hook up to it
PropCade is a self-contained, affordable Propeller platform for:
- writing Spin and Pasm code right on the Propeller with Sphinx
- emulating old computers (Z80, 6809, etc)
- emulating old game consoles
- making arcade cabinets
- serial terminal replacement
- running virtual machines (ZOG, Java and others)
- running FemtoBasic
- VT100 replacement
- The possibilities are endless!
For more information, please see the PropCade product page at:
http://www.mikronauts.com/parallax-propeller/propcade/
Please note:
PropCade is right for you if you want an "old-school" program bare to the metal system, enjoying the limited memory constraings of the rise of computing.
If you want something closer to a desktop, consider the Raspberry Pi or other similar low cost single board Linux computers.
You can find all of my single board computer reviews at the link below:
http://www.mikronauts.com/all-single-bo ... r-reviews/